Rainbow, brown and brook trout rising for caddis along the steep wooded banks of Oil Creek, bikers and walkers enjoying a jaunt on the bike trail that extends from Titusville south to Petroleum Center ...hikers, trail runners, and backpackers engaging in a scenic trek through meandering wooded paths with frequent views of the landscape...kayakers and canoers taking a scenic float, looking for the perfect spot to cast a line or have a picnic...this is just a sample of the action that takes place somewhere in our 'backyard' each day of the season.
It is not unusual to see a variety of wildlife while fishing or kayaking down the Oil Creek Valley. Be prepared to see deer, heron, raccoons, duck, turkey and geese of several varieties..... and even a black bear or bald eagle.

The folks here enjoy all four seasons---warm summers and crisp cold winters with ample snowfall. Enjoy 20 miles of Cross Country ski trails and over 52 miles of hiking trails, with shelters within Oil Creek State Park, in the foothills of the Allegheny Mountains. Autumn attracts nature enthusiasts as our hillsides change from plush green to vibrant shades of gold, red and orange...a favorite time of the year!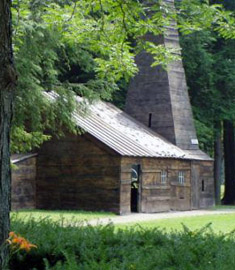 Titusville, located in Oil Creek Valley, is best known as the "Birthplace of the Oil Industry". It was here that Colonel Edwin Drake drilled the first commercial oil well in August of 1859. Fortunes were made when the oil industry grew from producing and refining to manufacturing. Titusville's great wealth in the nineteenth century was spectacularly manifested in block after block of impressively detailed Victorian homes, set among tree lined streets....many of which are still standing. Part of its vibrant heritage is also seen in its downtown, full of turn of the century architecture.

A town of approximately 5,800 residents, Titusville boasts a friendly, safe community ideal for raising a family or retiring. One of the most unique qualities of Titusville, in the practicality of living here, is that "it is the most easily walk-able community around". Where else can one live, where you or your family can go to any school or the university, library, grocery store or restaurant without having to hop in your car. Imagine that! It's one more thing folks enjoy about living here.

For more information about our schools you can visit:
Titusville School District and Penncrest School District -Visit this site-- University of Pittsburgh in Titusville, for more information about our local university. The photo to the left is a picture of Historic McKinney Hall, part of our Titusville campus.
Visit the Titusville Chamber of Commerce website or Learn more about our local Redevelopment Authority.
Tourists arrive throughout the year to visit Drake Well Museum and ride the rails of the Oil Creek and Titusville Railroad, taking a trip back in history through the valley that changed the world.
Hunting and Fishing information can be obtained by visiting this site of the Pennsylvania Game Commission. Be sure to stop by our office and share your hunting & fishing tales. We're all ears!


For more information about Titusville and the oil region area, places to eat, places to stay, things to do, etc., just give us a call. We always have time to chat and make new friends!
http://www.traillink.com/trail/oil-creek-state-park-trail.aspx
http://www.pgc.pa.gov/Pages/default.aspx